Regular price
$159
Sale price
$119
Unit price
per
Sale
Sold out
ALWAYS A ROCK HARD FINISH - An extra hard cure designed for tough jobs and high traffic situations. P

rotects your work for years to come. 

STRONG, DURABLE, RELIABLE - R

esists water, chemicals, and scratches. Its

 high adhesion formula is s

uited for table, bar, and countertops, woodworking projects, concrete floors, boats, metal corrosion protection, and more.

EASY TO USE -

Smooth, no-hassle application. Combine 2 parts resin to 1 part hardener. Mix for 4 minutes. Add color or keep clear. Apply to your surface and let it cure for 24 hours.

SAFE -

Non-Toxic and Food Safe. Low odor with no VOCs, no fumes, no solvents, no fillers. 

PROUDLY MADE IN THE USA -

Extra Hard Cure: Shore D Hardness 83. UV Protected and Non Blushing. Industrial Clear works hard and stands the test of time.

1.5 GAL KIT COVERS 48 SQ. FT. 
View full details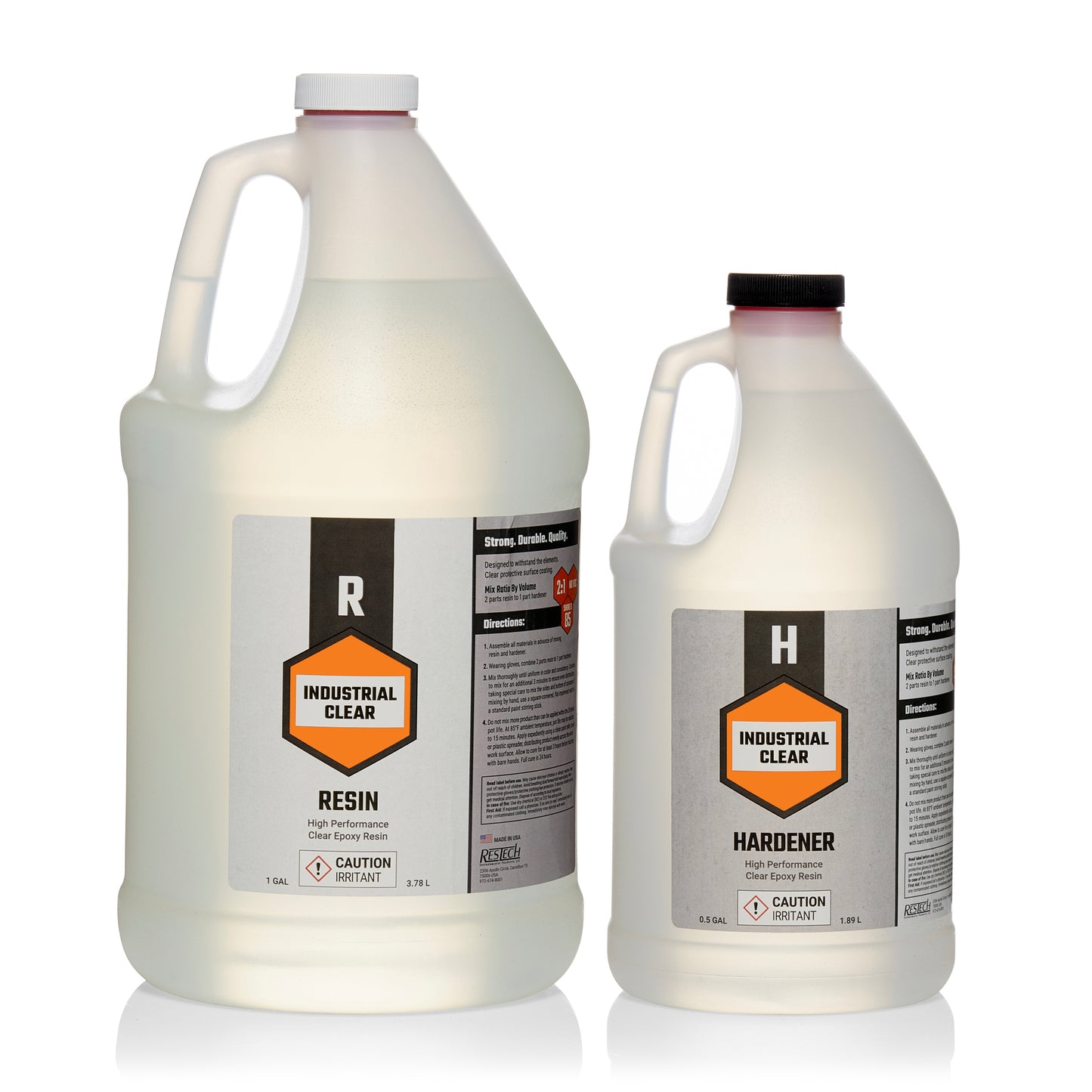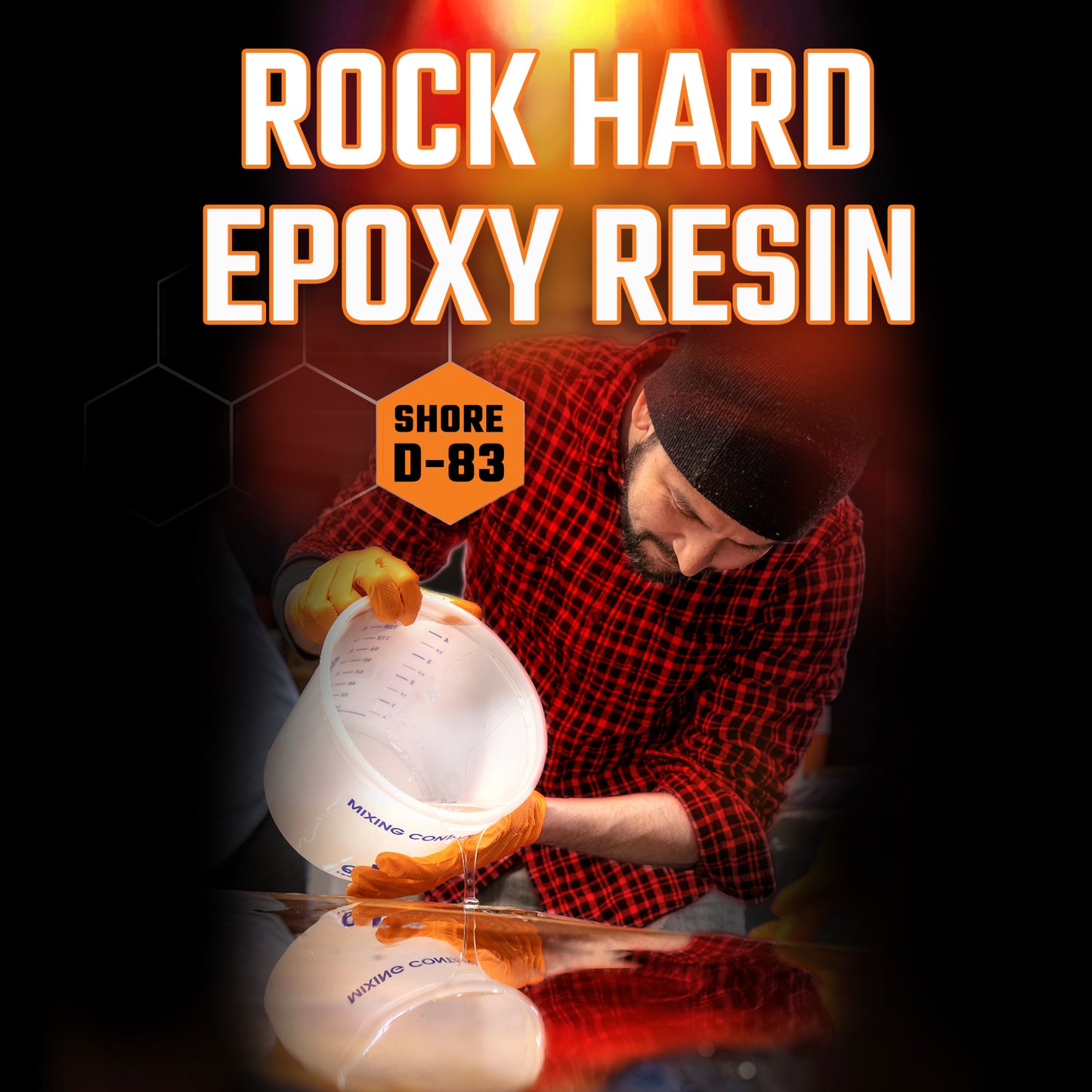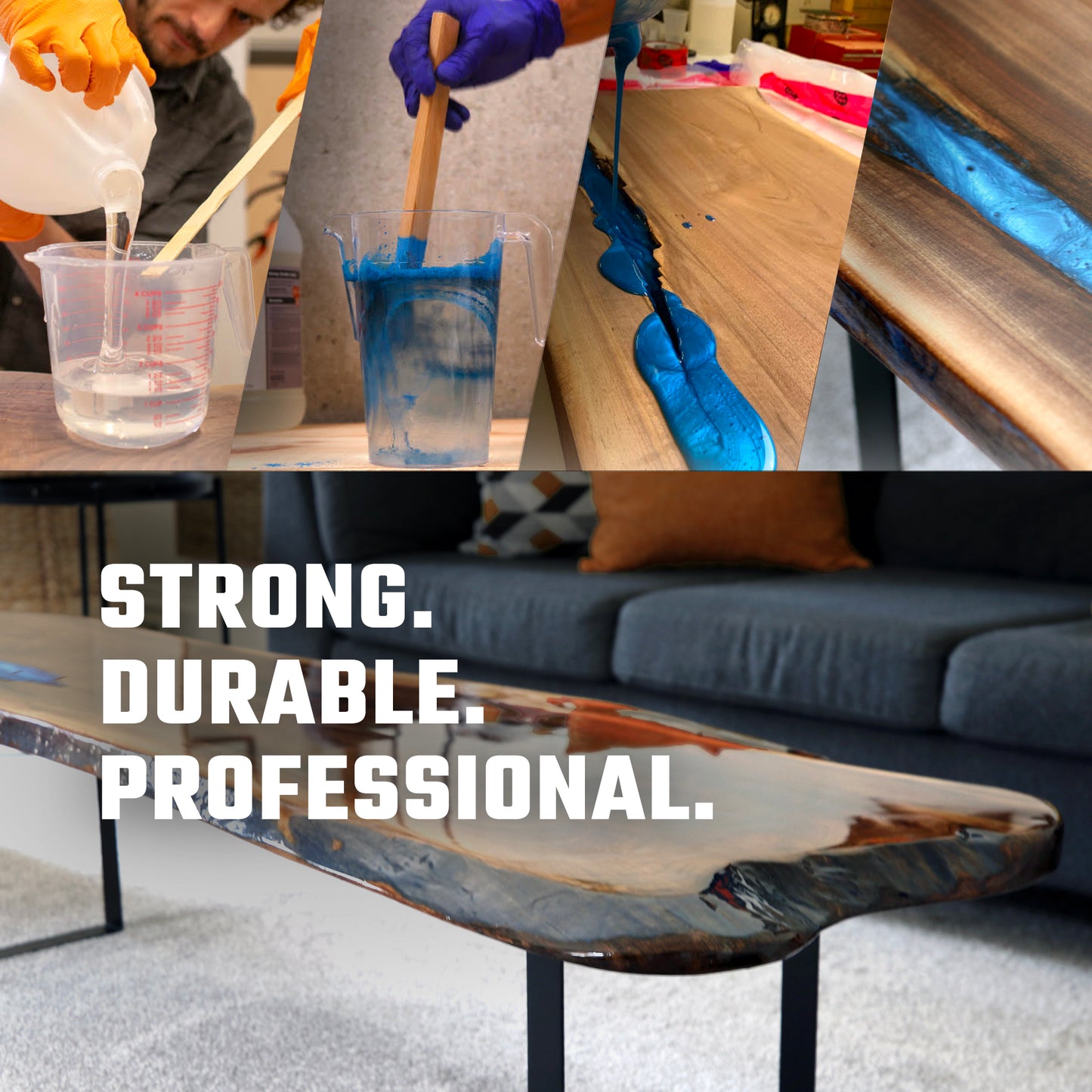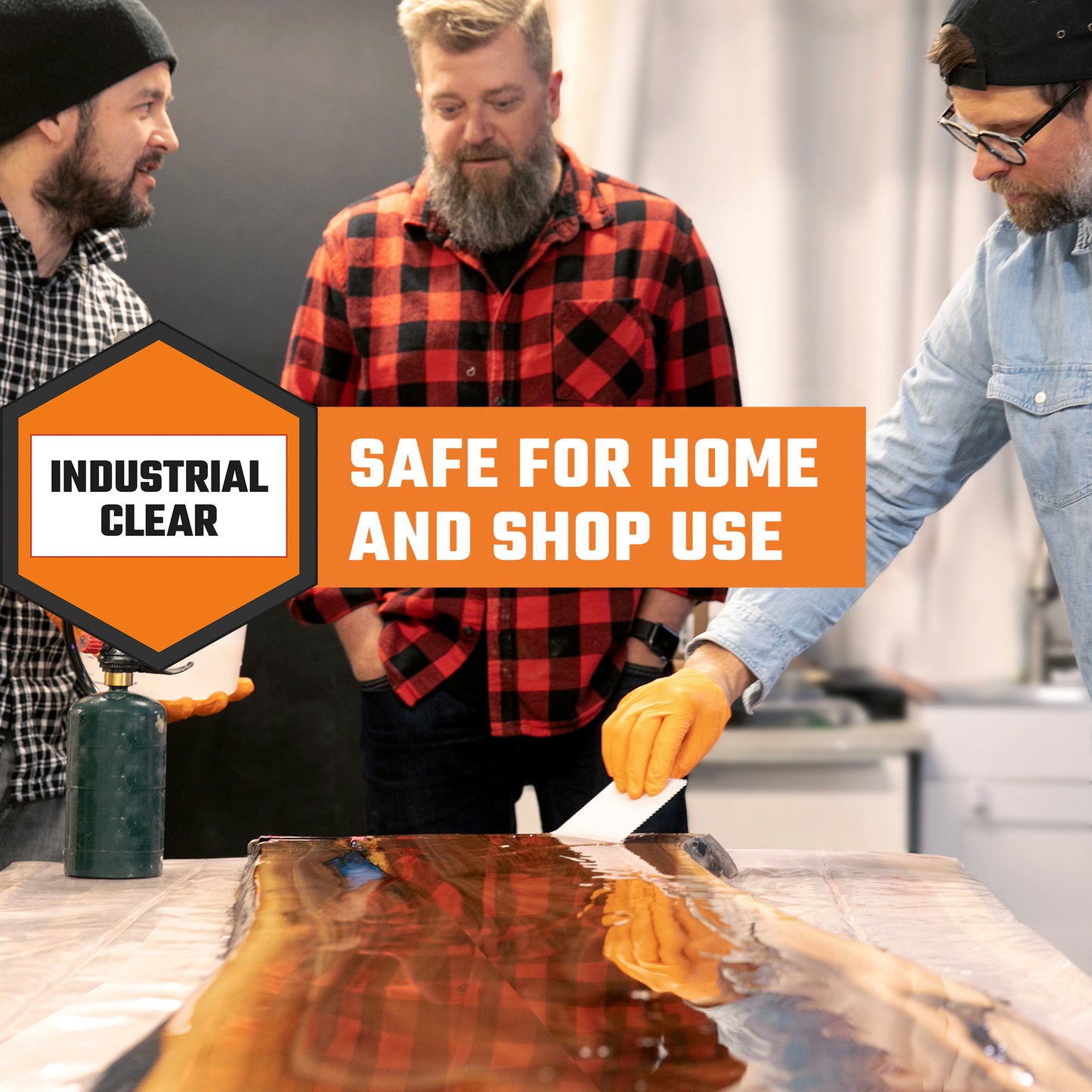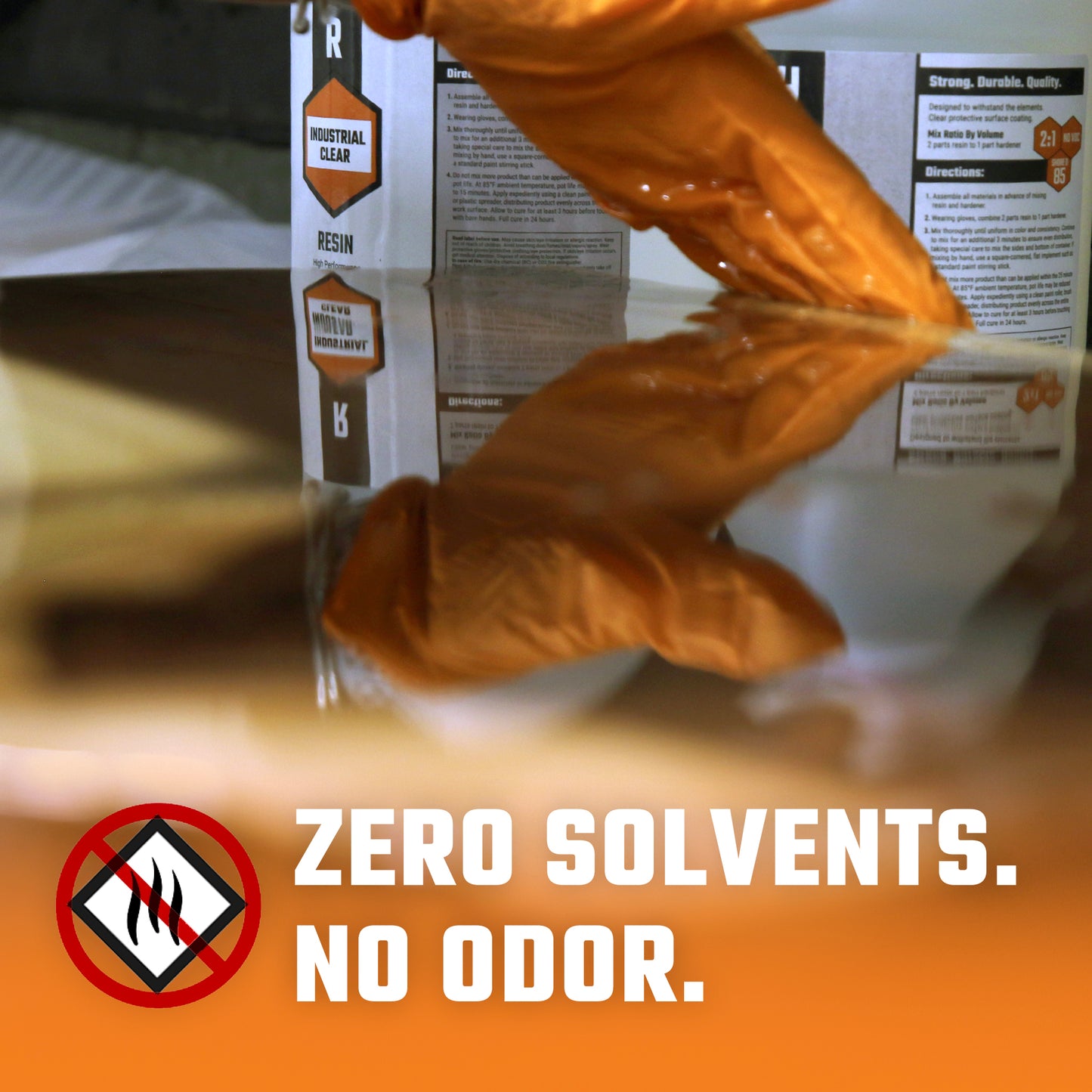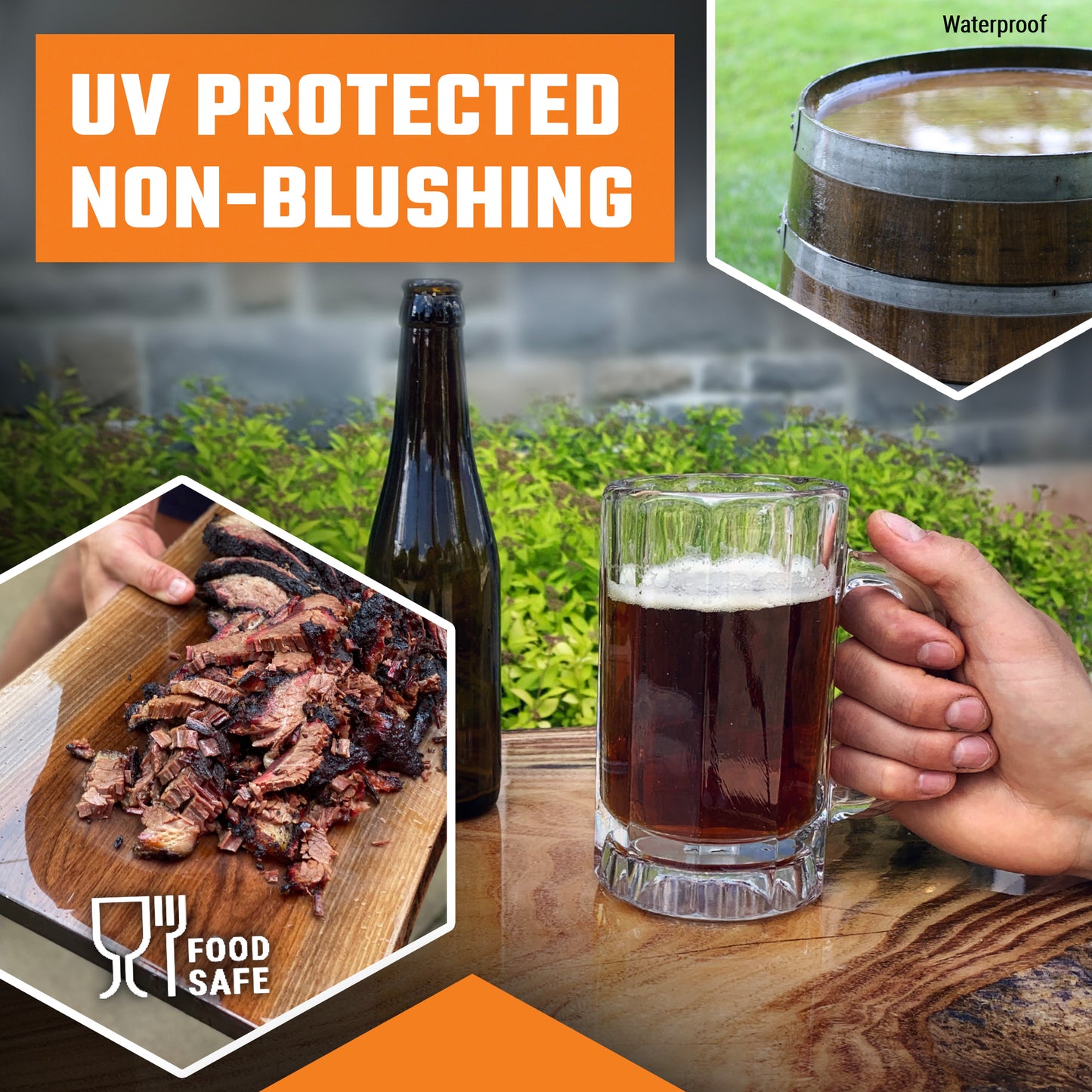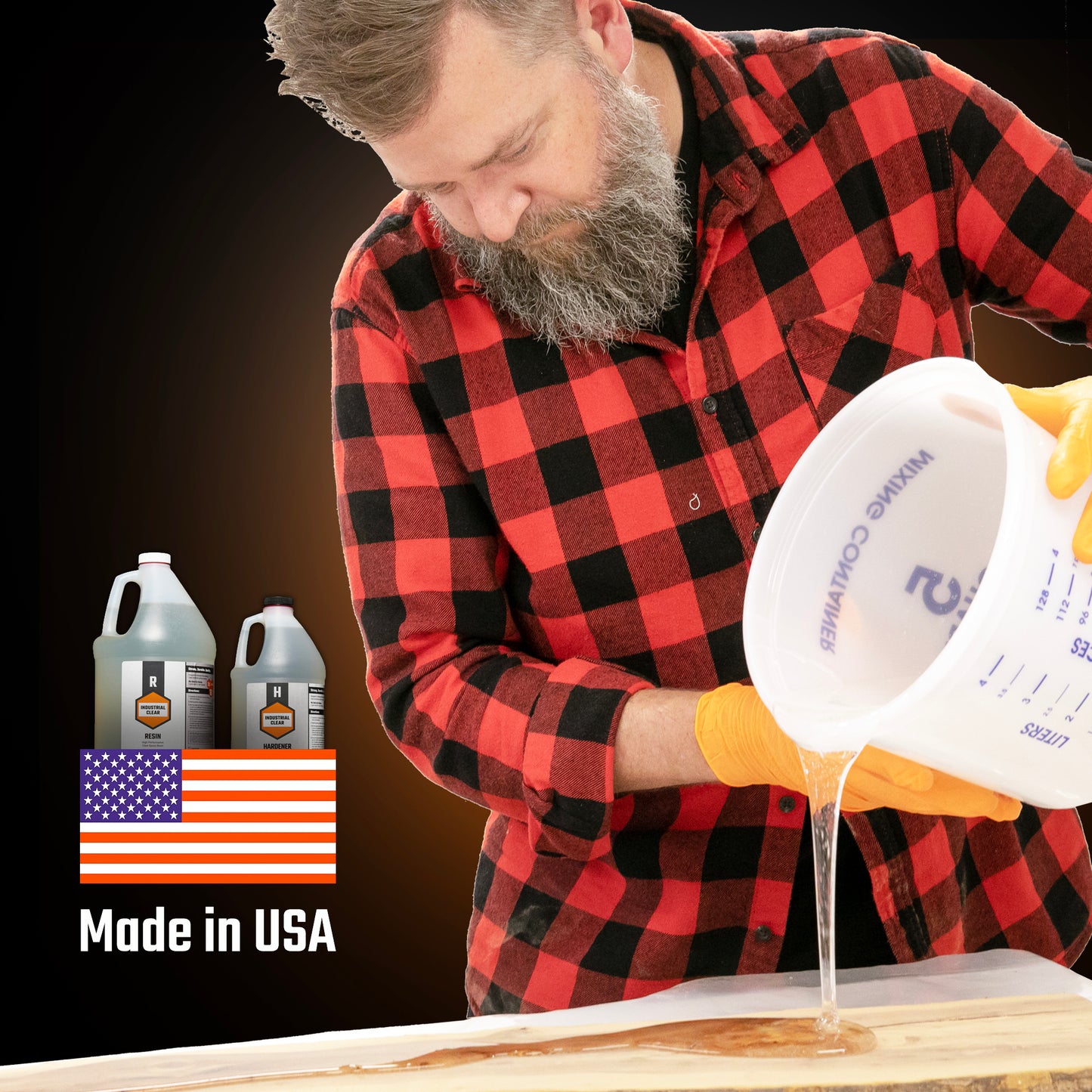 Durable

Hard Surface

Easy to Use

Safe Ingredients

Made in USA
Wood can absorb a lot of resin - avoid my mistakes
I loved the interesting cracks and details in this black walnut and thought it'd make a really nice serving board. I filled the cracks with blue tinted resin, but didn't seal the wood first. My mistake, because the wood absorbed so much resin that I had to mix a second batch to re-fill the cracks the next day. I used a clear resin for the second pour to tone the blue down. This time I thought I'd plan ahead for absorption and poured extra - mistake #2.  I poured too much and the resin ended up spreading out in a mess over the top of the board. I let it cure a few days until it was hard, then took it to a local wood shed and had them plane the board smooth and clean for me. Cost me $30 but it looks great now and ready for me to finish up. I was happy with Industrial Clear epoxy. No issues working with it, it mixed up nice, took the pigment well, easy to pour and looks great, but next time, I'm going to seal my board first and be more careful with the amount that I pour.
Outdoor TIC TAC TOE game - weatherproof
My wife saw this on Pinterest and thought it'd be fun for our lakehouse. Kids have a habit of leaving stuff outside so I wanted to epoxy it so the wood wouldn't get destroyed from moisture. I had some leftover Industrial Clear from a boat repair job I did. Great that it's so  versatile (marine, countertop, wood etc). I sanded the wood down flat and smooth and used a Sharpie to draw in the grid and X's and O's. Then I poured an initial coat to fill in the crack and seal the top. Let it cure and then did the same on the bottom. Sanded it down and applied final flood coats in two stages, top and bottom. Actually turned out better than the picture my wife showed me as reference. We'll see how it stands up over a few years, but I thought this was a great idea. Kids want a cornhole board next.
Outdoor bar top
Lucky enough to move to a climate that's warm all year round, so I'm building a bar in my backyard. Pride and joy will be this wooden bar top. I went back and forth between removing the bark and leaving it on, but decided to keep the nice dark edge. Happy I did, because it looks GREAT and frames the wood so perfectly. I coated the top and bottom in 2 different stages using Industrial Clear epoxy. It looks incredible and is now 100% waterproof and protected
The resin works great, but the wood took so much sanding!
I found this slab I wanted to make a lazy susan out of. It had a big crack so thought I'd fill it in with epoxy first, then coat the entire piece. I got Industrial Clear on the recommendation of a friend who just used it and was happy with the results. The epoxy was easy enough to use, filled in the crack nicely and sanded down easily after curing for a week. No complaints there. But a note to self and anyone else who might benefit from my experience: get a flatter slab of wood or get it planed flat before attempting something like this. I only have a hand palm sander and it took forever to sand the wood down smooth and flat. It was a heck of a lot of effort, but it's going to look great in the end.
Exterior Bar table
Table came out better then expected. Resin easy to work with